We bring people together
over food
As a community cooking school we proudly deliver fun, informative, hands-on cooking classes which are affordable and open to ALL in the Southern Highlands.
The Community Cooking School, formerly known as The Cook's Cooking School, is owned and operated by Your Angel Charity. We're all for breaking down social barriers and bringing people together over food as we keep the art of home-cooking (from scratch) alive for the benefit of all in our community.
Located in the heart of the Southern Highlands, our purpose-built kitchen provides a relaxed and welcoming environment for people to come together, have a little fun, learn new recipes, tips & techniques to prepare fresh food to  take home to share with loved ones.
Our Keep Calm Recipe Kit program brings The Community Cooking School home with convenient, hearty home-cooked meal kits to prepare from the comfort of your own kitchen.
As a charitable service we do not seek to profit from our community programs. Instead we subsidise costs by opening access to all for a minimal fee with Your Angel sponsorship (free access) available to people in need of financial or social support, so everyone can join the food fun!
As a community cooking school we are proud to offer something for everyone with a mix of classes & home-cooking solutions available to all!
Our fun, affordable, hands-on home-cooking classes are open to anyone interested in mixing food with fun. All are welcome as we come together in our purpose-built kitchen to learn how to prepare fresh, healthy food (from scratch) in a fun and relaxed atmosphere.
Why should adults have all the fun? Through-out the year we offer kid-friendly cooking classes geared towards small-hands-on cooking. Kids, aged 6yrs + can leave their adults at the door for a half day of hands-on cooking fun in our
kids-only school holiday classes.
Learn how to make hearty home-cooked meals from scratch from the comfort of your own kitchen with our Keep Calm recipe kits. With visual recipe cards and portioned ingredients for a generous main meal and sweet baked treat, our Keep Calm recipe kits feed 4-6 people and take the stress out of home-cooking.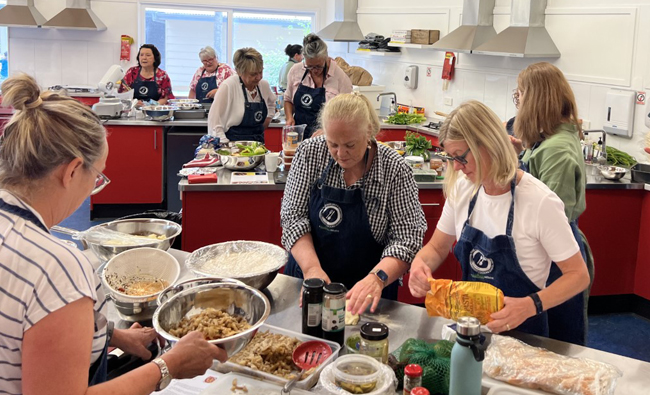 OzHarvest Community Cook-ups
Every month we open our kitchen doors to cook for community thanks to OzHarvest Southern Highlands. All are welcome to freely assist as we turn local food "waste" into delicious meals to fill OzHarvest food relief fridges & freezers across the region.
Help us help others, join our kitchen fun! We need volunteers to work along side cooks (young & old) during class and to assist on recipe kit packing days. Free class meals / kits for all volunteers!
Apply for Your Angel Sponsorship
Free ($0) community class entry (incl. kid friendly classes) and Keep Calm Recipe Kits available via Your Angel Sponsorship. Register your details here & we'll be in touch.